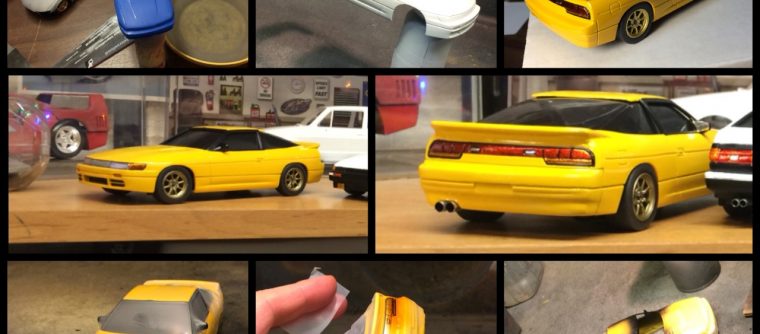 I can honestly say that I never intended to build this kit.  In my write ups for the other three 1/32 scale Initial D cars I clearly indicated that fact.  Alas, I wanted a quick project to wrap up my year and decided to give it a shot.  One of the reasons for my reluctance to build this kit had to do with how the rear windows were represented.  The 240SX/Silva had glass that wrapped around with no exposed C pillar.  The toy like appearance of these kits created a chunky appearance to the glass.  The second issue had to do with the head and tail lights.  The Sileighty was the only one of four that did not have flip up head lights. The lousy decals provided for the head and tail lights were not going to work.  In the past few years, my experience with finishing details has improved to the point where I felt I could tackle this kit.
I suppose there was a third issue.  I had always used this model to test paint.  The body was covered in dozens of layers of paint.  Having discovered Castrol floor degreaser for stripping paint, I was able to strip the body down to bare plastic.
With a clean slate, I was able to tear through this and had it finished within a few days. I had to do some minor prep work on the body and quickly had it in color.  I used bare metal foil for the head and tail lights.  I used a thin tipped sharpie to outline the tights; a trick I wish I had used on the other kits.  Tamiya clears finished up the lighting detail.
I wanted all four kits to have different colored wheels.  I decided to paint a set of wheels gold and used them on my FC3S RX7 and pilfered the bronze wheels for this project.
I dipped the glass in future floor wax to try and give it more depth.  I don't believe I prepped the surface well enough.  The shine wasn't what I was hoping to see.  Still, it was better than it looked with no treatment.
Lastly, I used aluminum tubing for exhaust tips.
After more than a decade, I finally finished all four kits and I'm pleased with the results.