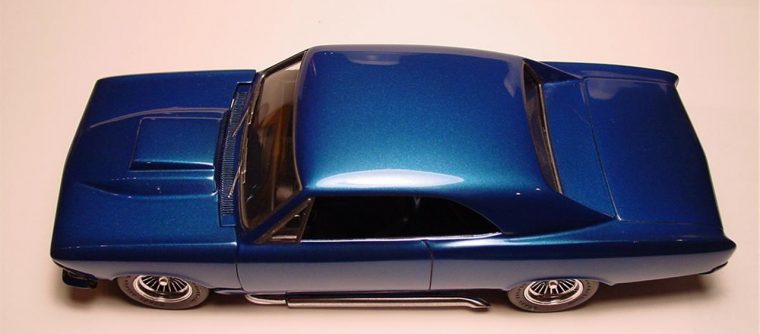 The original build was completed some time in the early 90's.  It was before I really started painting.  I used paint markers to do the trim and interior.  It worked, but wasn't very interesting.
Some time ago, I started reworking old models.  This was the first of many.  I don't have before shot of what it looked like prior to tearing it apart.  The comparison shot I have was taken after I had already put on a new suspension and wheels. I used body filler to smooth out the hood scoop and then shaved quite a bit of the body trim.  Everything turned out very well on this rebuild except for the side pipes.  I did a better job with them on the next Malibu.
I wasn't going for any kind of scale accuracy with regards to the front suspension.  This was a drag car with a tilting front end.  All I wanted was a low stance and a clean look.  I managed this by attaching whatever front cross member I had laying around and worked the rest of the kit around it.
Originally built around 1992
Reworked: May 2005