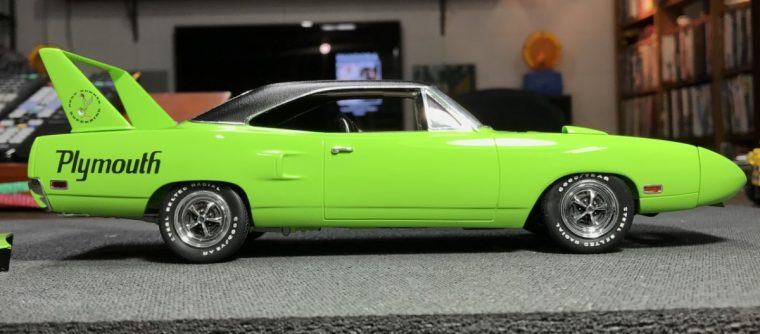 I bought this kit around 1995. It is one of the last kits in my collection that I bought during that time. I couldn't say why it sat on the shelf for more than 20 years before I really started it but now it's ready to be proudly displayed!
Several years earlier, I painted the engine and the white lettering on the tires. I had taken several engines and tires from other kits and decided to paint them as a batch. Once that was complete, the kit was more or less forgotten….lurking in the background.
In early 2016, I decided it was time to dig into it. Very quickly, I finished the chassis and suspension detail. I also plowed through the interior finishing the wood grain details and embossing powder for the carpet. I made quick work of the body prep but was help up by the unavailability of Tamiya white primer. I used Rustoleum 2X white primer on the chassis and it worked well. However, it is a very thick paint and I knew I would run the risk of losing detail around the vinyl top. Between the Rustoleum primer, and the Testers Sublime green paint (out of a can) I had reason to be concerned.
Once Tamiya white primer became available, I starting working on the main body and parts. I decanted the sublime green paint and sprayed all of the smaller parts. After I finished touching up a few blemishes in the main body, I sprayed several coats of color. I set everything aside to cure before I started applying decals.
When it was time to start applying decals, I pulled the kit decal sheet and realized that there were no roadrunner logos. The missing logo in the nose decals wasn't as big a problem as the missing wing decal. I discovered that Kieth Marks offered a set with the correct decals. I ordered a set and once they arrived, I quickly applied them. Shortly after, I sprayed everything with Tamiya clear coat.
After the clear cured, I sanded and polished the paint. Next, I applied bare metal foil around the window and roof trim. After that, I masked and sprayed the vinyl top. Prior to assembling the body, I decided that the rear bumper needed to be stripped and sprayed with Alclad chrome.
Once the main body was finished, I finished the rest of the detail work and finished assembling the kit.
In the end, I'm very pleased with this kit. I think about the fact that had I started and finished it 20 years ago, that I would not have been able to finish it to this level of quality and detail.
Completed: January 2017