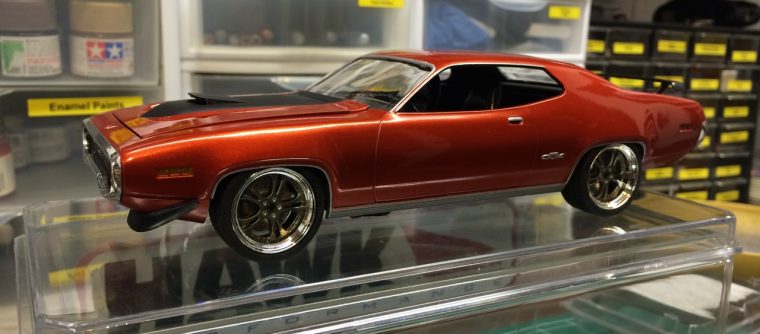 Justifying the rework
After I reworked my '71 'Cuda I started to take a look at some of the other kits.  The main premise of the rework on the 'Cuda was to add detail to the chassis and engine bay.  The body of this GTX was well done but everything else was rushed and minimally detailed.  The scope of this rework includes cleaning the seams on the engine and painting it, adding detail to the interior, painting the chassis and engine compartment body color and lowering the suspension.
Ride Height Correction
The ride height in front was corrected by cutting the wheel stud and reattaching them higher. The rest of the project involves a lot of masking and paint.
New Wheels
I had seen another Mopar built that used a set of Pegasus wheels and liked the look. It gives it the pro touring look! After I corrected the ride height in front, I worked in a set. The only modification I had to do was to grind away material on the chassis pan. Other than that, the wheels fit perfectly.
The Rest of the Detail Work
The rest of the project was fairly straight forward.  I primed and painted the body colored components.  I separated the exhaust from the rear axle to make them easier to paint and add realism. The heavy seam in the engine was filled and sanded smooth.  I decided to try and paint the wood grain in the interior.  I did everything except for the instrument cluster.  Later I realized that I could have easily done the work but I'm still very pleased with the results.  The exhaust was finished by using aluminum tubing.  I used two sized to help me attach large tips to the standard exhaust.
One Last Detail
I finished this project earlier in the year but forgot to strip the air cleaner and paint it. After a several month break from building, I was able to paint the air cleaner and officially finish the project. The end result is a mean looking GTX!
Originally Completed: 2001
Rework Completed: 2014