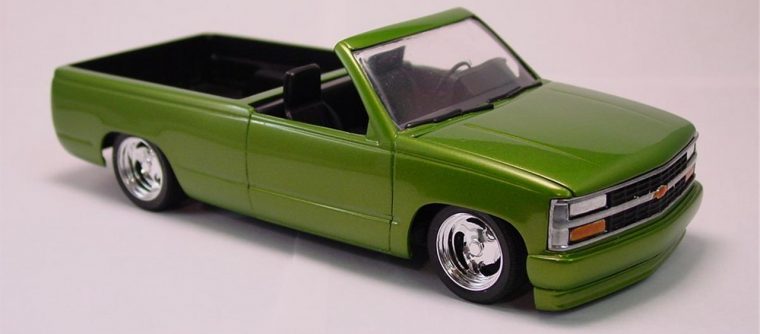 Assumed lost, this kit hid in the shadows for a number of years before I accidentally found it. A friend of mine had started it and managed to leave it behind while working in my shop. He had chopped the top and started shaving a few details and never got a chance to finish it. I thought I would finish it up.
This was a labor of frustration! This kit weighs a lot! There is an incredible amount of body filler in this kit. I blended the cab into the bed. I blended the tail gate into the bed. I built up the area around the interior to make it look right. I later added corvette tail lights. They were sourced from a '96 vette kit that I wasn't going to build. I also used chezoom wheels, along with '73 trans am front and rear suspension. I grafted in a transmission tunnel from a '94 trans am kit. I used the engine from the Corvette kit. I also smoothed out quite a bit of the dash to give it a clean look.
There are probably more details than I can remember right now.
The red body filler was something I tried and used on a few projects. I found out the hard way that it shrinks badly. The normal stuff I use that requires a hardener works much better. Lesson learned.
I had finished this kit to the point where all I needed to do was glue in the battery under the hood, and I managed to knock it off of my bench. It landed bottom side up, smashing the windshield pillars. I was able to get it fixed and repainted, but it wasn't as great as it was the first time around.
If were to do it again, I would probably try to create a filler panel to fill the gap between the bed and cab. Also, I would have probably tried to make the transmission tunnel differently. I cut through both the chassis and the interior tub and made them all one piece. I ended up permanently fixing the tub too far forward. I had also started working towards grafting in the Corvette's interior. I really struggled with it so I gave up. I feel confident that I could build it right today.
Setbacks aside, this kit turned out well. Not too bad for a major custom!
Completed: May 2008