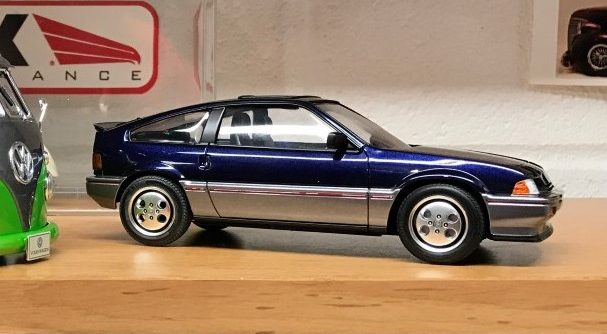 When I visit other cities, I always try to visit a local hobby shop. While in Vancouver, I found a fun little shop and while I was there, I found this CRX. I wanted to add to my Honda Civic/CRX collection and I didn't have one of this generation. Naturally, I bought it.
My wife talked me into sticking with the two toned color scheme but rather than using the original colors, silver/blue or silver/red, she suggested I use more dramatic colors. I used Tamiya light gunmetal for the bottom half and Tamiya dark blue metallic for the top. I was not disappointed!
While detailing the chassis, I noticed that it would be very easy to cut out the fake engine half and detail paint it separately, saving me a lot of masking grief. Having carefully cut it away with a hobby knife, rather than use a saw, I was able to slip it back in place with no fitment issues.
For the suspension, I wanted to simulate an Eibach spring and Koni shock look. With careful masking, I was able to get the look I was after.
The interior went together well. To dress up the all black dashboard, I did my best to highlight HVAC and other control button details. I also tried flocking for the first time on this kit. I can't say it went as well as it could have but I understood what I did wrong. Subsequent projects have turned out very well!
The body didn't need much special attention. I did fill in odd holes in the rear bumper that do exist on the 1:1 as well as the front plate holes. The color selection turned out better than I hoped.
Wrapping up the build, I added aluminum tubing for the exhaust tips, used Tamiya clear colors for all of the indicators and tail lights.
Overall, this was a very quick and simple build. This is one more Honda Civic/CRX that I've added to my collection.
Completed: December 2016