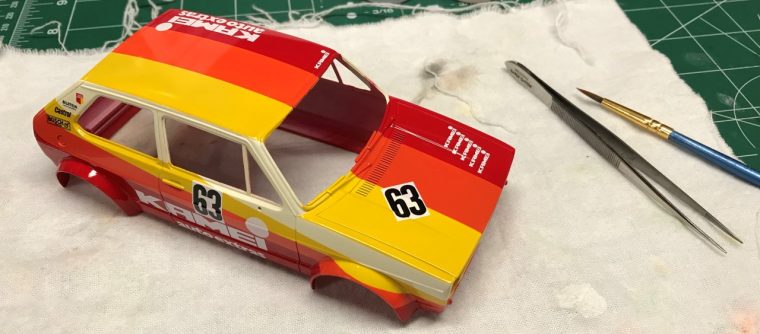 Wow! My idea for reigniting my drive to build worked better than I expected!
I quickly hammered through the AMT 2012 Corvette build and made great progress on the Toyota Celica. Having reignited my motivation to build, I pulled out a few of the projects that have been lurking in the background for the past few years. I worked through a few body details on the "Hemi" Charger, moved forward with the 68 Corvette build and pulled out my very long stagnant VW Golf race car build.
The VW Golf, for me, was a very daunting project with considerable masking and decals. Using Tamiay's narrow flexible tape made the whole process easier than I could have imagined.
The 32 Ford rework project experienced a huge setback. I had prepped and painted the chassis as well as all of the bits and pieces of the chassis. While adding one final detail to the chassis, I was too eager to pull the masking and pulled a large sheet of paint off. As I shook my head in disbelief, I dunked the chassis in degreaser to strip it.
While looking through my wheels stash for my Celica project, I pulled out wheels that I bought for my EG Civic and Glasstop CRX kits. I bought them a couple of years ago but never had the chance to use them. I quickly prepped them for installation and painted them. While the CRX and Civic were apart, I decided to add flocking. I love how they turned out!
My son wanted to try a rat rod build. After doing a little research, I settled on process using white glue to make rust spots. Although we didn't go crazy with shading and staining, the look was pretty convincing!
Next month, I continue my forward moment and finish two very old projects and continue building.