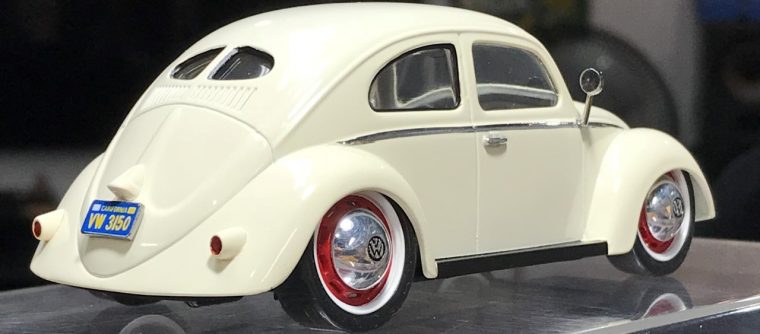 While pondering life's greatest mysteries, I realized that I really wanted a model of the VW split window bug. I searched the internet and discovered that there weren't many options. There is a large scale version and this 1/32nd scale LS kit. I don't collect larger scale model kits which left me with this option.
For the most part, the body is shaped well. There were virtually no panel lines for the hood and trunk. I carefully scribed several new panel lines to help improve the look of the kit. I also elected to shave the trim on the hood as well as a few other small details that didn't look quite right. One other detail involved moving the locating indentations for the tail lights. They weren't in the right spot. After filling them in, I did my best to eyeball the correct location using reference photos and drilling shallow holes to locate the tail lights after paint.
I chose Tamiya's racing white after I saw another build in the same color. The kit wheels aren't cast very well on top of the fact that they look small. Since I don't tend to work with 1/32 scale kits, I don't have any spare wheels and tires to use. I decided to use a set of 1/24 scale VW bus wheels to give the bug an over-sized aftermarket wheel look. The next challenge was finding a tire that would have the same overall diameter but the correct inner diameter. I found what I needed through Jel Claws slot car tires. The tires do not have tread but I wasn't concerned. I did have to trim the width to make them fit in the wheel wells properly. One last detail that I felt was important to tone down the size of the wheels was to pant the rim white. In doing so, I've simulated a white wall tire.
Adapting the new wheels and tires required new axles. The kit supplied metal axles were too short. While preparing new axles, I carefully bent the rear axle to add camber to complete the lowered appearance. I simply drilled the chassis pan to move the axles into position.
Once all of the details were complete, the bug came together nicely. Although there were several shortcomings in this kit, I think I did a nice job of correcting a few of them while adding detail that make this little bug stand out. I'm happy to add it to my collection!
Completed: September, 2017