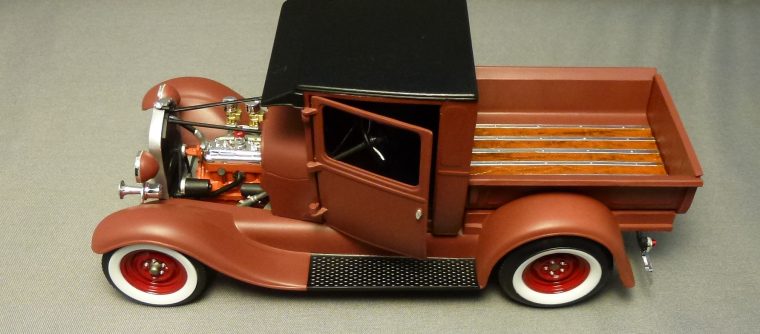 Building "rat" cars, without the extra patina, is pretty easy.  Flat paint jobs and minimal body work.  This truck is a Rat-Rod kit so it really lends for a rat build. 
As much as chrome suits an old truck like this, most of the parts, including the chrome plated parts, had an incredible amount flashing and mold lines.  I decided to de-chrome most of the parts and paint them aluminum.
My first attempt at a wood grain finish was a success!  I used a technique that I read about in Scale Auto Magazine and finished it with Bare Metal Foil for the straps.  I'm very pleased with the final results. 
I also used embossing powder to simulate a carpeted floor in the cab. 
Lastly, the doors won't stay closed….I spent a great deal of time making sure the doors would close, but in the end, after the cab and roof were glued in place, it changed the shape of the cab enough to where the doors no longer stay closed.  I may end up gluing them closed in the future.
Completed: December 2012