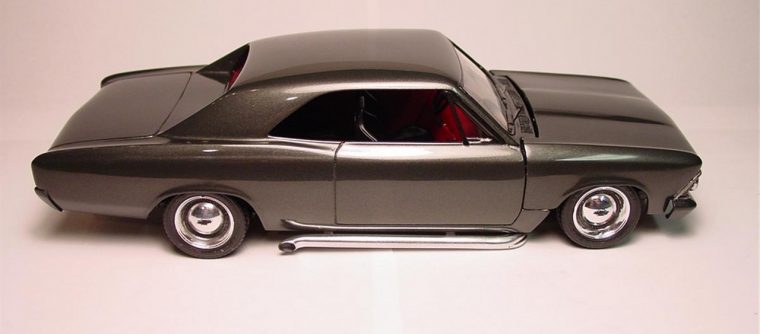 This restoration was of a kit I built in '93.  I used a really cheap airbrush to try my hand at painting the entire body.  For my first attempt, it wasn't bad.   I had a lot of body work to do on this one as I had used too much glue attaching the glass and interior tub causing the plastic to warp.  After I finished the blue Malibu, I wanted to rework this kit as well as try a different approach.
I used '53 Chevy wheels with '94 Trans Am tires.  I thought it went for a good low profile retro look.  I used some racing seats in the interior in place of the bench seat.  The original hood scoop was really lame so I filled it in.  I found a low rise intake manifold for the engine so the engine and carb would fit. 
For the header side pipes, I used a piece of wire to hold the header to the side pipe and then used body filler to smooth out the two pieces.  It turned out much better than it did on the blue Malibu.
I love the dark metallic gray with the red/black interior.  I'm very happy with this model.
Originally Built: 1993
Reworked: September 2007