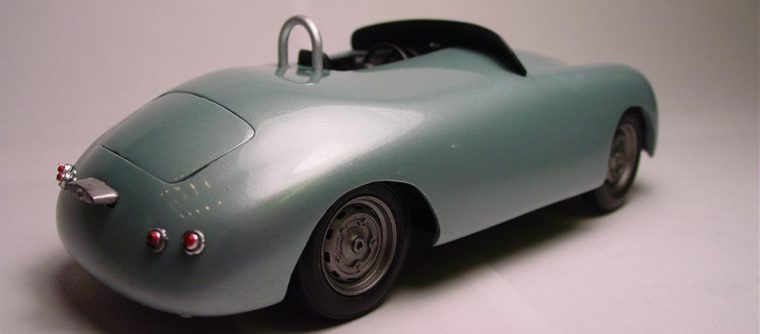 There is no way for me to figure out when I built this originally.  I was a kid and documenting model building wasn't something I thought to do.  Youth… It was a glue monster.  I repainted it a few years later, and then a few years later, and it looked "better" and I use the term loosely.  It was the last of my very old models that was worth restoring.  I didn't quite finish this exactly as I had envisioned it, but it turned out well.  I used the red body spot filler on this model and was disheartened to see that it shrank leaving seams all over the model.  More than likely, I will grind it down and do it again!
I had started this restoration with the normal body filler so the foundation is solid.  There is an incredible amount of filler inside to give the body support.  I smoothed out all of the body lines except for the driver's side door.  At one point, I decided that it would look better if I attached the tonneau cover and blended it into the body.  The windshield was beyond repair.  No amount of sanding and polishing was going to bring it back…Painting it flat black gave the model some contrast that it needed.  I also installed a "momo" steering wheel and a racing seat from another kit.  To finish it off, I used the original wheels from my '66 bug kit.  The original suspension was completely trashed, so I made axles out of part's tree pieces.  The underside of this kit is in no way worthy of showing!  Aside from the filler that shrunk, I was very happy with the way this kit turned out.
Once I get through a few projects, I'm considering a monster rework for this kit. Overall, it turned out decent, but I look at the lumpy wheel wells and the shrunken body filler and I find that I would like more from little Porsche.  The picture with the V8 has been resonating with me and I have a feeling I'll try something crazy.  I have a Porsche 928 kit that is missing quite a few parts making nothing more than spare parts.  Depending on what's left, I may try to graft the engine, transmission and suspension onto this 356.  Or, I have an LT1 engine or any number of old Mopars to choose from.  I'd like to craft a somewhat realistic chassis to a reworked body that resolves the mistakes I've already noted.  Time will tell!
Completed:  Late 80's?
Reworked: September 2007