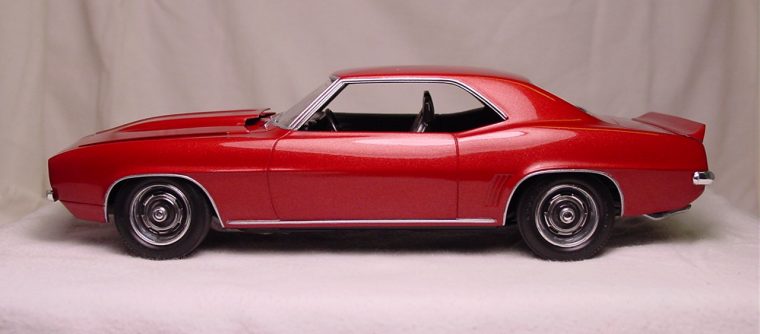 For the most part, this is a box stock build.  I chose Testors metallic red for the paint.  I sprayed it over a grey primer and it turned into a slightly pink color.
Some time in 2012, I decided that I wanted to completely rework this kit.  I never liked the way the color turned out.  I tore the kit apart and set it aside to start the rework.  The work on this project started with the engine.  I was in the process of painting several other engines and pulled this one into the mix.  Everything was completed except for reworking the headers.
Fast forward to 2014 and I realized that I really didn't want to grind away what was a nice paint job, color aside.  I took the time to black wash the engine/transmission and then started reassembling the kit.  The only other work on the kit was backing the tail light lenses with BMF and replacing the silver highlights on the tails with BMF.
For the most part, it doesn't look any different than it did before but the under hood detail is much more satisfying.
Completed: October 2002