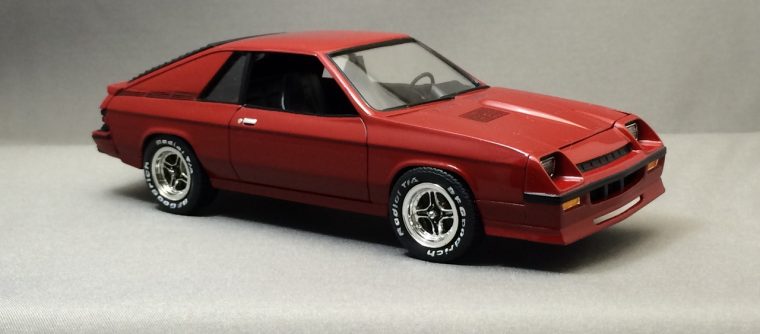 Compared to the Chargers of the muscle car era, this one doesn't quite live up to it's name.  However, during it's time, performance was quite hard to come by.  The motivation for this project was to build as close to a replica of the '82 Charger my dad owned.  I built this one along side the Opel.  The Charger my dad owned was 2.2 version which was a little different compared to the Shelby version.  Shortly after I painted this kit, I discovered that MPC sold the 2.2 version.  I was too far along to stop and buy the correct version so this one would have to suffice.
This kit contained an astonishing number of parts.  Quite a bit more than I think it really needed in my opinion.  I found that attaching all of the additional body parts prior to paint greatly simplified the final assembly.  The suspension and chassis proved to be a rather large challenge.  Unmodified, the wheels stuck out by over 1/8″.  The front also rode rather high.  I spent quite a bit of time grinding away the suspension to try and make everything fit.  In the end, I hacked quite a bit of the rear suspension and used wire to recreate the mounting pins.  Up front, I had to hack the mounting pins, mill the back of the wheel and move them into position and held them in place with superglue.  The end result turned out very well.
The engine could have been built with a standard carburetor or the turbocharged Shelby version.  The standard version appeared to be accurate compared to 1:1 shots but the Shelby turbo version looked nothing like the rear thing.  Ignoring that, the turbo setup looks good.
I found that using Tamiya clear over oil based paint will lead to clear flaking a bit during sanding.  The problem only surfaced in a couple of areas so I wasn't too worried.  Something to remember for future projects.
The finished project turned out really well even with the challenges I faced.