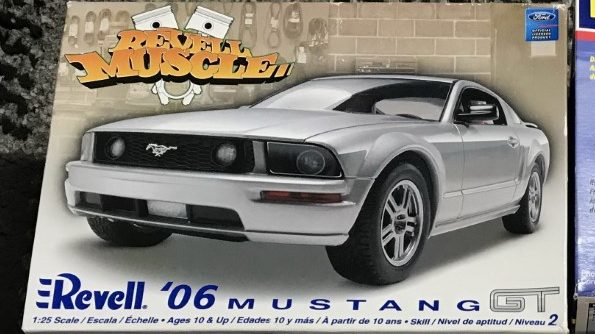 The Gamble
This kit was part of an eBay listing that was more or less a gamble. At $20 shipped, I picked up 4 kits in various states of build and there was no guarantee they were complete. Two of the four kits were garbage, one was completely un-built and then there is this Mustang. I wanted the set of models for this kit. It was mostly built and poorly painted. The hood was modified to include a vent that looked good but for whatever reason, the builder bowed it so it would sit higher. Beyond that, the kit was complete
Deconstructing
Having been painted rather poorly, I needed to start by blowing the kit apart and stripping the paint. After soaking in floor degreaser for a day, I was able to scrub off virtually all of the paint. What was left was easily sanded away.
Build Plans
I needed a new hood and found a decent resin cowl induction hood on eBay. I will need to rework the cowl but it will work out well. Beyond that, it will be a box stock build. I may swap in the GT wheels from the newer mustang since the box wheels look small.
I may choose a classic 60's color for the Mustang but haven't settled on one yet.