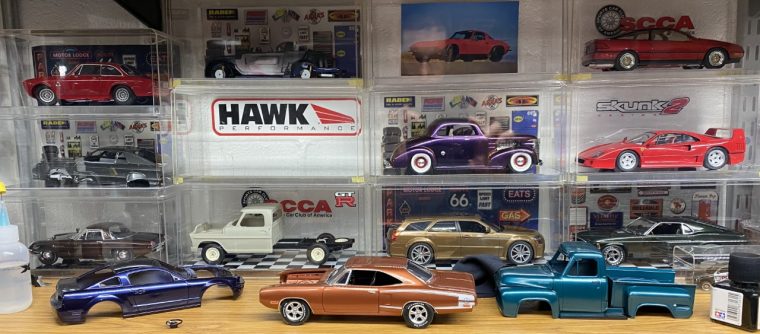 This month was huge for progress! I finished three builds! I can't remember if it was last month or this month when I realized it would be possible for me to break my previous best year record. I had completed ten builds in 2012. By the end of this month, I completed ten leaving me all of December to knock out one more.
Builds completed this month are the '06 Mustang GT, the '70 Superbee and the Alfa Romeo Giuilia Sprint GTA. I also picked up a few more salvage models off of eBay and another Rad Era kit, a '90's Pontiac Grand Prix.
Alfa Romeo Giulia Sprint GTA
I started the month by finishing the foil work on the Alfa. Once complete, I tackled what was the most difficult detail work on a pair of tail lights I have experienced! The work involved chrome trim around a smaller reflector in the middle of the light. After a few tries, I was satisfied with the work and colored the lenses with Sharpie markers.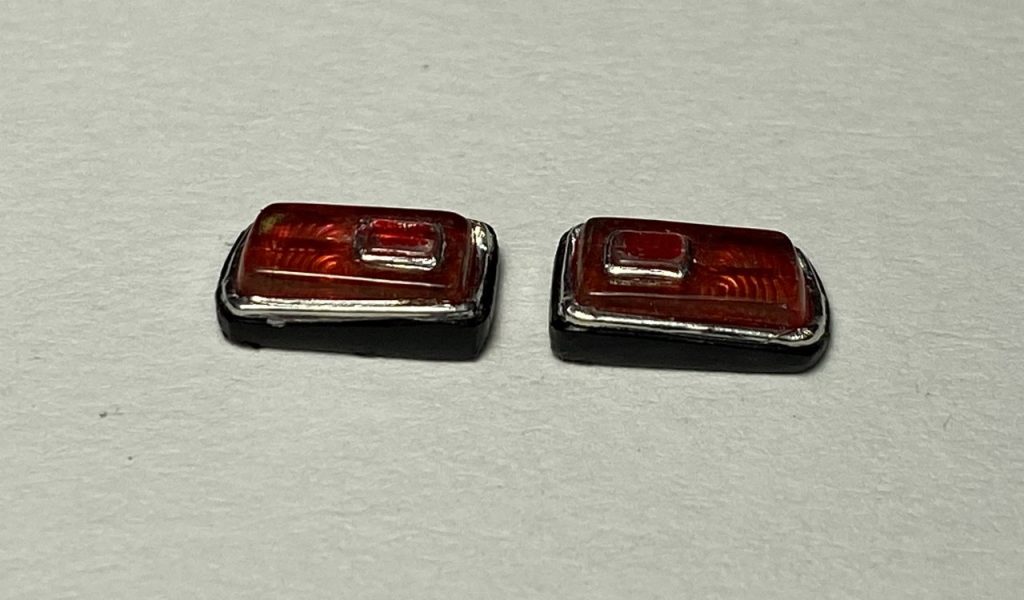 Final assembly was straight forward. I attached all of the lights, grilles, mesh, windows and mirrors. I had fitment issues where the body wouldn't sit flat. I pulled the body and found that I hadn't glued the interior panels in correctly. Once I pulled them apart and cleaned the glue, I glued everything back in place correctly. Now it sat even. Lastly, I finished Spaxstix chrome painting the bumpers and attached them.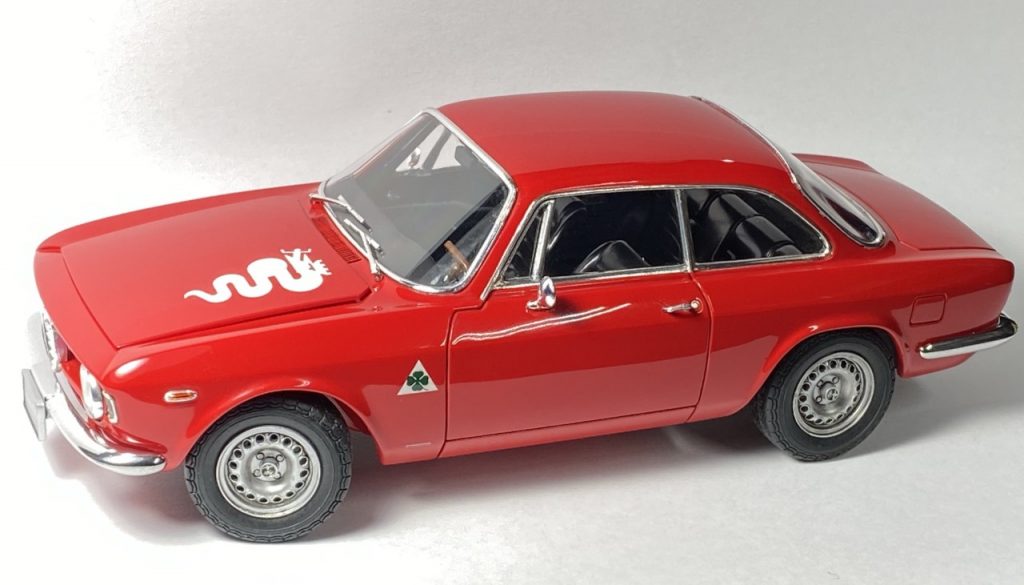 Dodge Superbee
As soon as I set aside the completed Alfa, I started working on finishing the Superbee. I had masked the grill piece and sprayed Spazstix chrome while I was refinishing the Alfa bumpers. I also finished wiring and detailing the enigne. The last challenge was adapting the Fireball Models wheels and tires. Through a combination of parts and washers, I was able to get the wheels to fit well using most of the original hardware. Having finished the major components, I was able to finish the build quickly.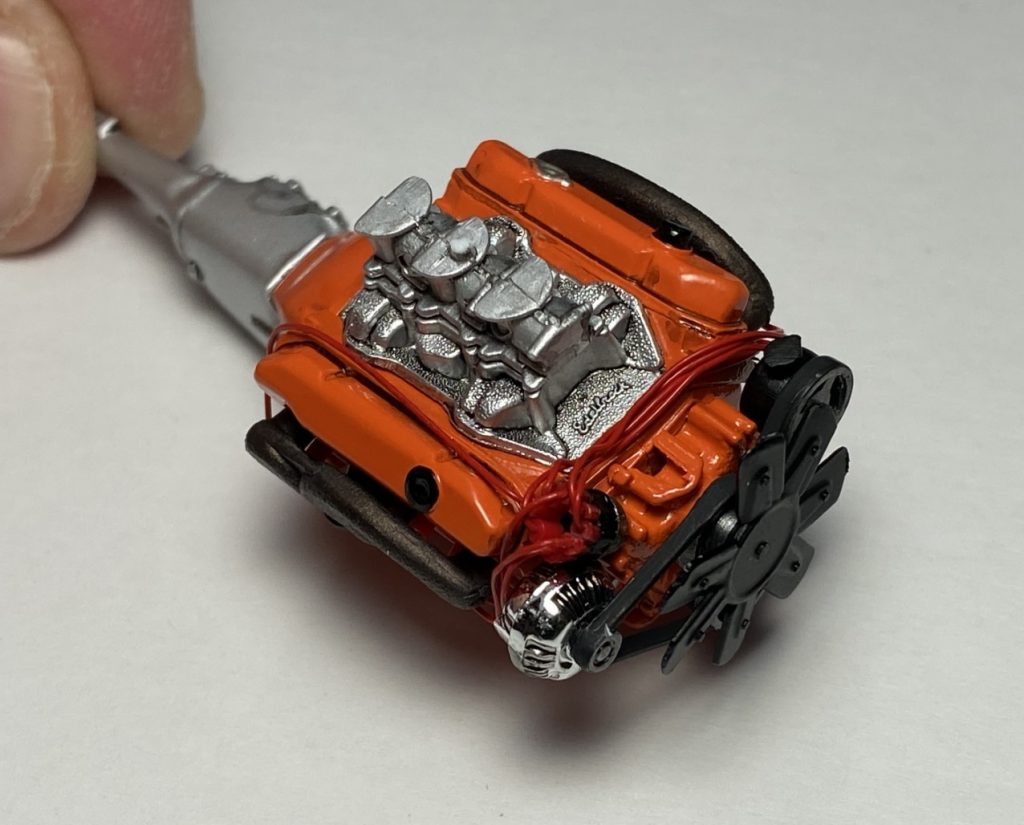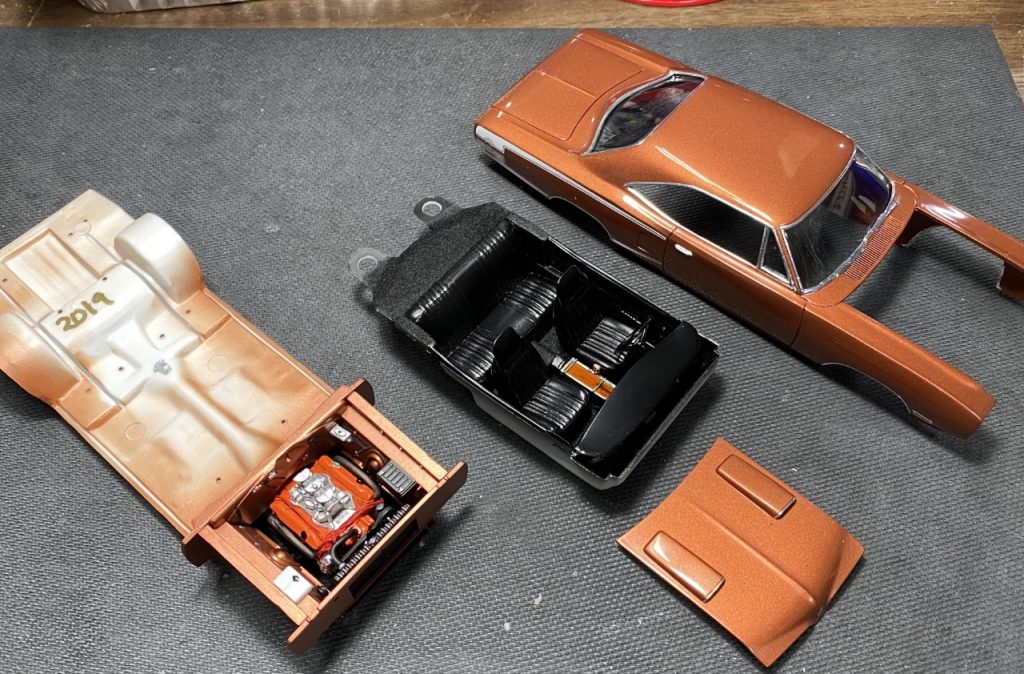 I wanted to use the ducting on the underside of the hood. Considering other fitment challenges through this project, I was not surprised that getting everything to line up and fit correctly would be difficult. In the end, it all fits and looks great!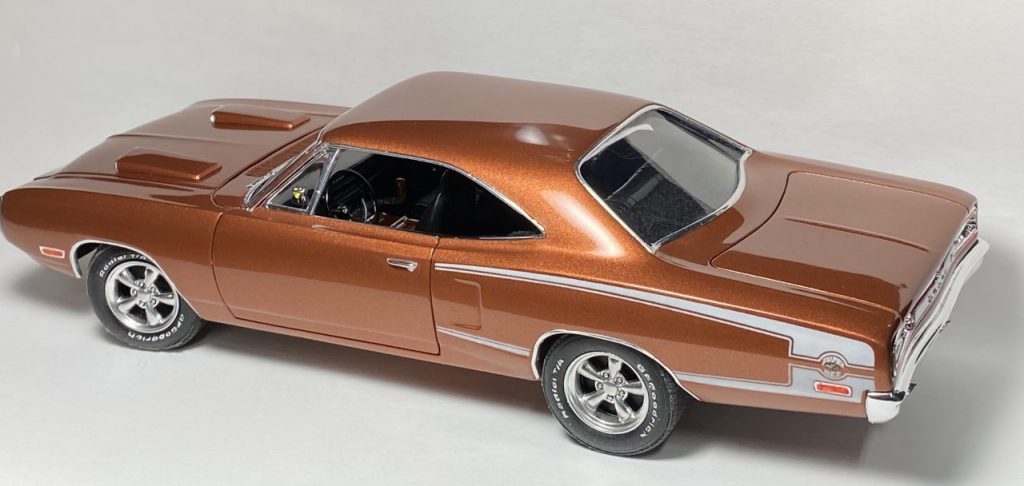 Mustang GT
I can't explain why I had so much trouble with the paint on this build. I sanded through to the primer in a couple of spots and my repair attempts nearly ruined the build. After receiving a replacement bottle of paint, I was able to fix the mistake. Then, I did it again. I sanded through in two more spots on both rear quarters. I prepped and repaired the paint and finished with clear. After that, I very gently sanded and polished the body. Having finished everything else while waiting for the replacement paint, I was able to slam another project together. I finished this build off with wheels from a newer generation Mustang. I lowered the stance by gluing the wheel/brake combo higher on the mounting points. I'm happy to call this salvage build complete!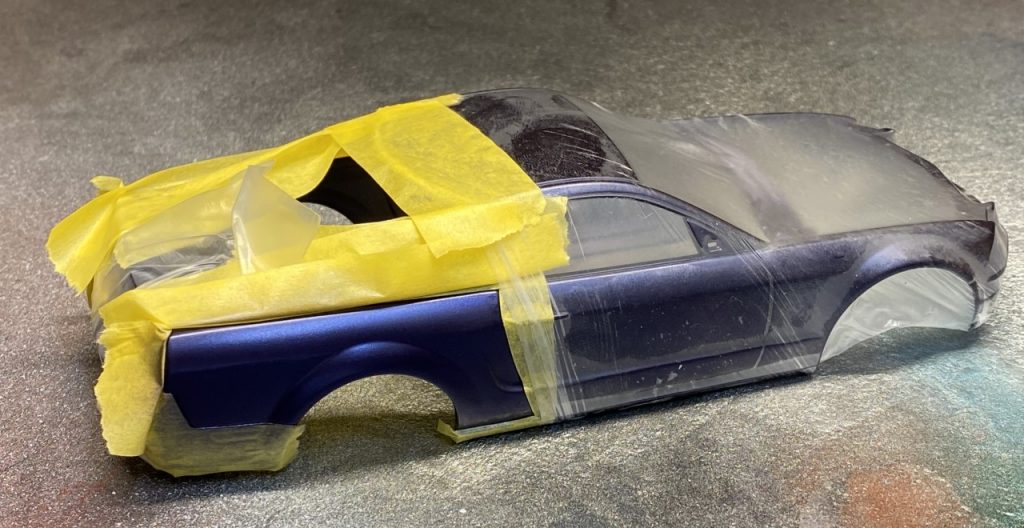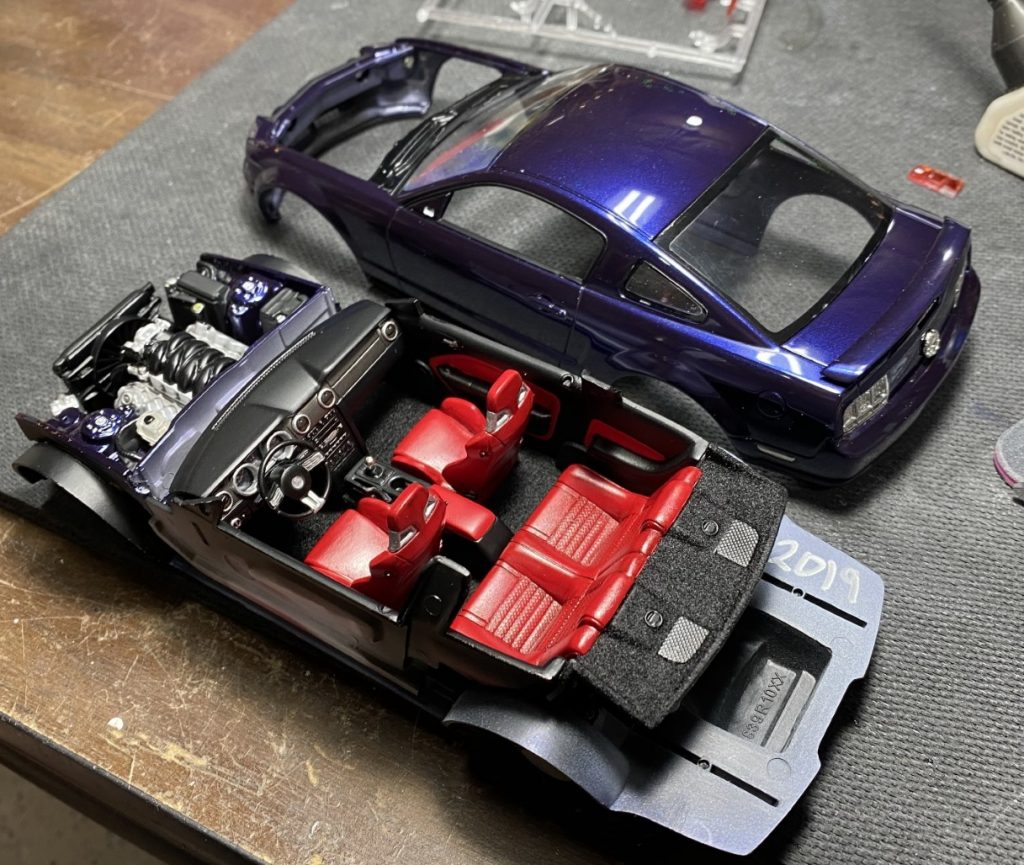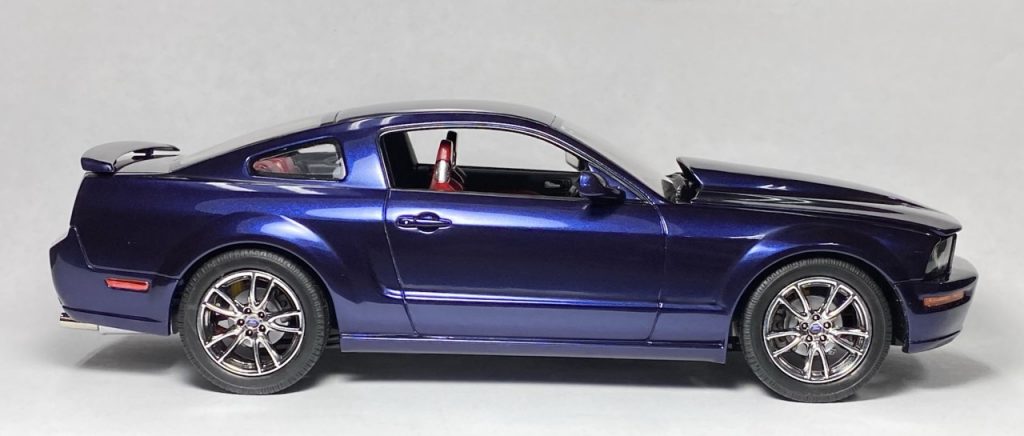 Number 11! Z06 Vette
Now that I knew I could break my record, I needed a quick build. As much as I wanted to finish my 82 Hemi Charger, it still needs a lot of fabrication work. I decided to pull out this '04 Z06 Vette. I had started it earlier in the year and most of the prep work was complete.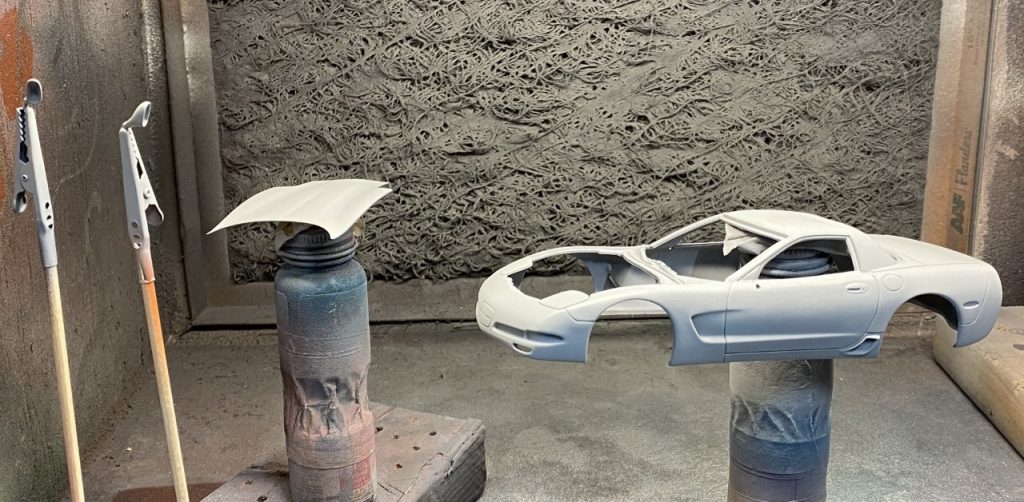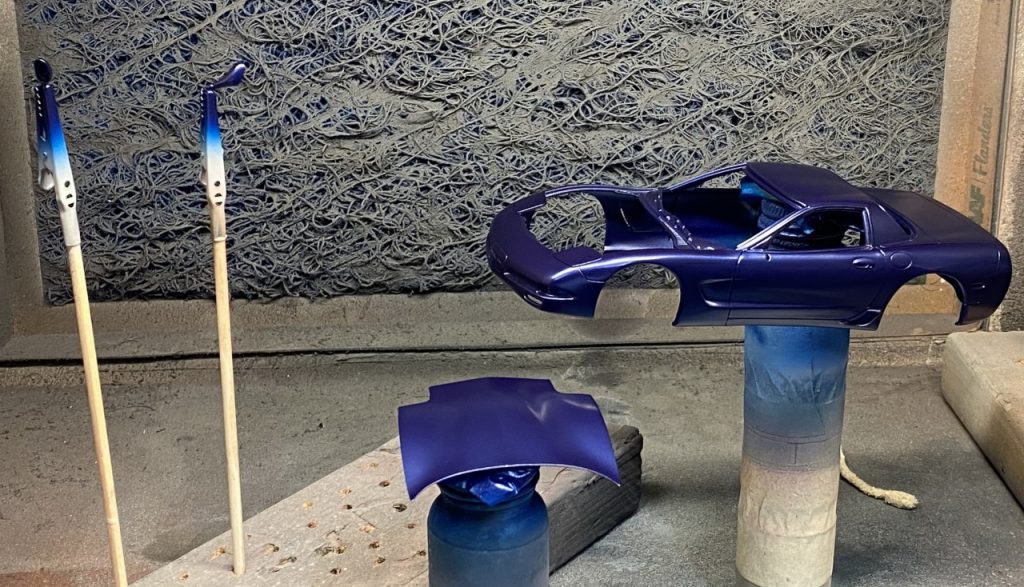 More Salvage kits
I really need to stop trolling eBay for junk projects. Maybe later. I picked up a few listings and after inspecting my buys, I see opportunity for three complete builds.
The 37 Ford is missing wheels but is otherwise complete. The 57 Vette is also missing its wheels but is complete. The Viper box has two kits but it looks like one may be complete and the other is not. The Diablo included two kits but neither have enough parts to finish. My son added hummer wheels and creative use of exhaust pipes to make a rather mean machine out of the Diablo.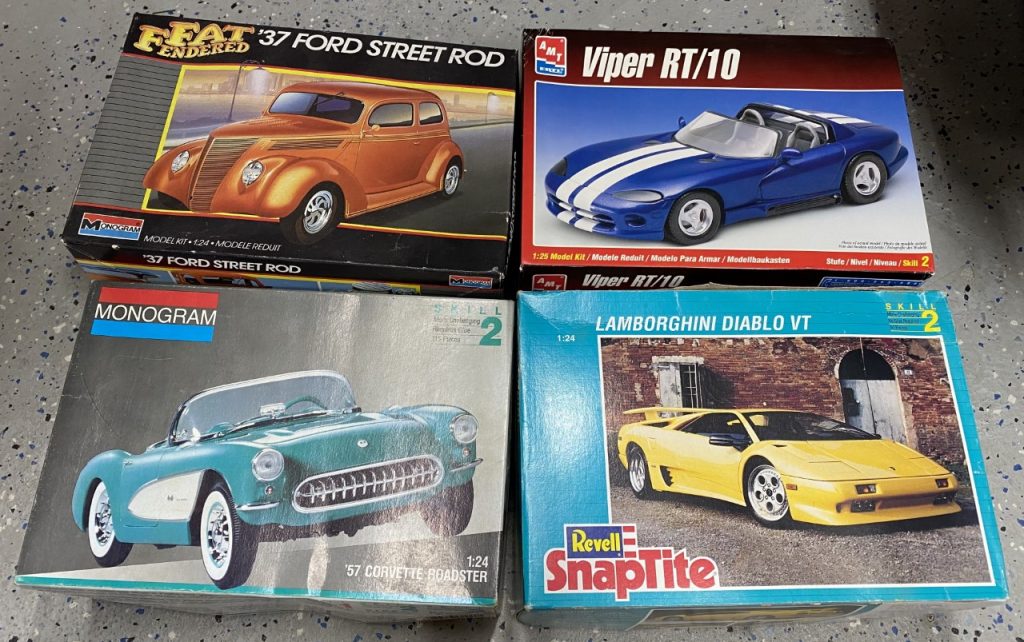 This 90's Pontiac Grand Prix was a $5 find at a local show. I look forward to adding this to my Rad Era build collection.