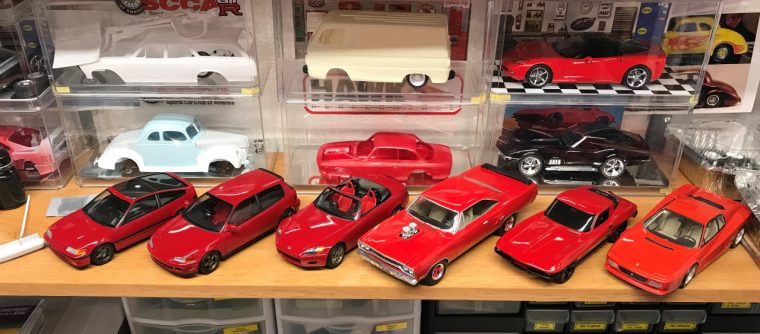 April was another busy month in my shop! I was able to finish the VW Golf, the '69 Corvette and the Toyota Corolla TE27.
I had finished the Golf, applied the decals and sprayed it in clear last month. This month, I finished all of the detail work and completed final assembly.
The last thing I needed to finish on the Corvette was the photo etch emblems and script. As intimidated as it looked, it went fairly smoothly. All of the time I spent researching options for attaching photo etch paid off. Along with the research, I also found wax tipped sticks from Micromark that really made it easy. I used Tamiya acrylic clear and set everything in place.
I also wrapped up the Toyota Corolla. I received the Watanabe wheels I ordered from eBay and wrapped up the build. The last thing I had to add were the bumpers. They were the only chrome plated parts in the kit! I was willing to live with the mold lines however, there was a piece of dust or hair stuck in the chrome that was unacceptable. I stripped the bumpers, cleaned the mold lines and finished them with Alclad chrome.
Which trying to decide on wheels for the Toyota, I finally committed to installing the EightOne.com wheels on my Civic and CRX builds. The Civic received the Mugen wheels and the Buddy Club wheels went to the CRX. I had to use a set of parts box brake rotors to finsh the CRX. In the end, both cars look much better. While I had them apart, I also flocked the interiors on both.
Lastly, I sprayed the body of my Hemi Charger project. It is Testors graphite gray. I'm not thrilled with how it turned out. If I strip it, I will destroy all of the body work. I will pick a color that will cover the gray without much effort. I also decided to approach the chassis differently. More on that in the future as I figure it out.
I was very pleased to wrap up two very long projects this month! The VW and Corvette have been hanging around for quite a while.