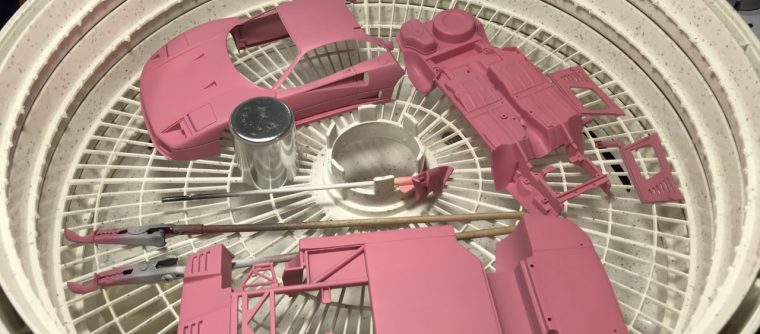 I was not as productive in May as I would have preferred. I had to travel quite a bit and was generally busy with my actual responsibilities!
I still managed to get in a few nights of work. I tried out my new Zero Paints pink primer. I learned a little too late that "thinned for airbrush" doesn't mean the same thing to everyone. After fighting with spitting and poor coverage, I thinned the mix and finally got the flow I was looking for. The only problem I ran into was heavy spitting on the engine cover of the F40. It filled in the embossed F40. I decided to strip the engine cover and start over.
Beyond that, I started the interiors for the Alfa Romeo and the 70 Superbee. The chassis pan for the Alpha is also the bottom of the interior. I first finished the chassis in body color then worked on the interior itself. I flocked the interiors of both cars and prepped several parts.