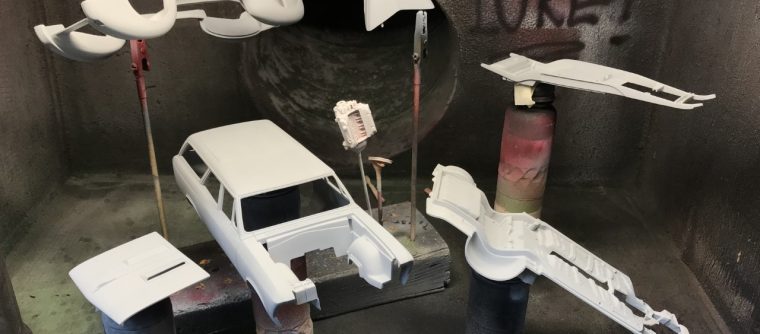 I managed to pick up the pace through June. I continued working on the interiors for the Alfa and Superbee. I also finished a significant amount of the work on the 66 Chevelle.
The interior for the Alfa was easy to detail. I did have to fill in a sink mark on the dash but beyond that, most of the work was quick and easy. I used bare metal foil to trim the door panels. I used molotow chrome for the dashboard details. I finished the steering wheel and decided that I really wanted to open the holes in the spokes. I stripped the steering whee and used a pin vice to drill out the holes. To date, I haven't finished the wheel. I also discovered that the dashboard catches the windshield frame of the body. The glass attaches from the outside which should prevent any fitment issues but I will shave the dash and respray it at a later date.
The interior for the Superbee was relatively simple. I stripped the chrome center console and painted it woodgrain. I followed up by painting the trim with molotow chrome. I also painted the shift knob woodgrain. In order to prevent the steering wheel from sitting in the driver's seat, I had to bend it back significantly. It's not 100% but looks more accurate.
The main effort this month went to the 66 Chevelle. I finished all of the interior detail and assembly. I also prepped and sprayed the body in color and clear. I'd like to say that I can hammer out the Chevelle in the next month but I never received the LS engine that I ordered from Clearly Scale.