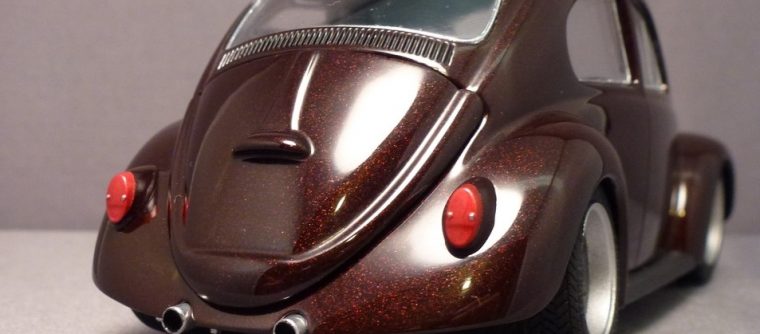 Fundamentally, there was nothing wrong with this kit.  It turned out really well.  As with most restoration and rebuild projects, I will find a way to make it even better.  My original intention with this kit was to detail paint the wheels.  Since the wheels were glued in place, I was gong to have pull the kit apart.  While pulling it apart, I realized that I never painted the trim on the windows.  As I was popping out the windows, I chipped the paint.  Rather than touch up the paint and move on, I elected to respray the kit.  I eventually decided to add more detail to the kit by painting more of the interior and under hood/engine cover details.  The paint is Testor's Metallic Red with a black base coat.  The black base gives the metallic red the black cherry look.  This will also be my first project to include bare metal foil for window trim. 
The final touch on this model is the aluminum tubing used for exhaust tips.  I managed to lose the kit's original exhaust tips and decided to give the tubing a try.  I'm very pleased with the results.
Comparing the before and after pics of this project shows me that redoing this kit was very well worth it.  I'm much happier with the extra detail and the new color.
Originally completed: September 2007
Rework: May 2012