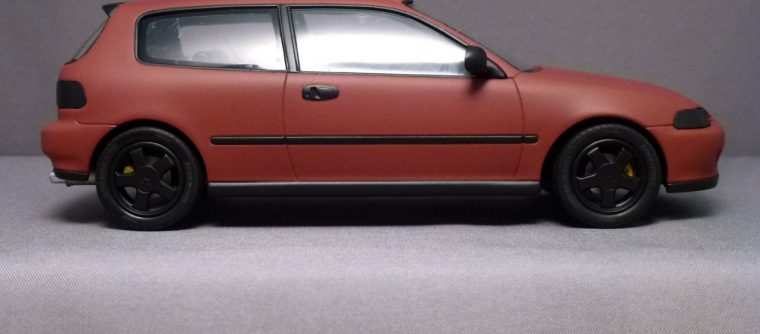 Black sheep…that is how I would describe this kit.  I originally built this model in 1999.  It was technically never finished because of a lost head light lens.  I also had a big problem with clear-coat that was contaminated with metallic flake and then managed to crack the hood while sanding the clear.  It was never allowed in the case and virtually forgotten.
While building the other EG Civic hatch model, I needed a chassis piece that wasn't bent.  I decided to use the piece from this kit.
While looking at the leftover pieces, I decided that I could salvage it by going with the red oxide "rat" look that I had actually contemplated painting my real civic.  I repaired the damage to the body, made a head light lens out of clear styrene to make up for the lost part.  The tail lights were not painted very well and there was no way I could salvage them.  The quick fix was to spray all of the lights black.  Not idea, but it looks sinister! If I can find a set of lenses without buying an entire kit, I'd like to finish this right.
I finished it off by spraying the wheels black.
Now I have a kit that I am more than happy to put in the case.  It was a very fast project that salvaged an unloved kit. 
Originally Built:  1999
Reworked: August 2012