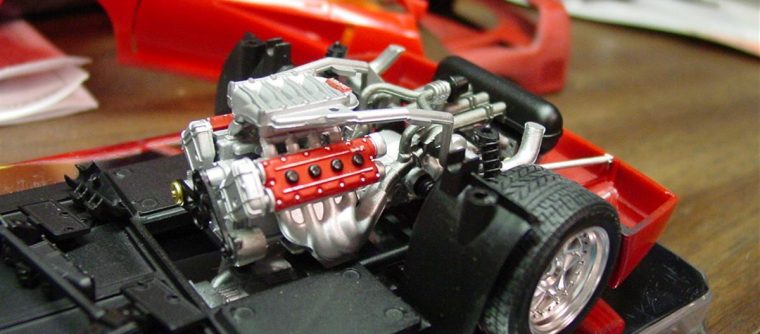 The Ferrari F40 is by far one of my favorite cars. As everyone likes to point out, this car represents Enzo Ferrari's final effort before he passed away. I'm also pleased to share that I had a chance to ride in one on a race track! What a ride!
I started this model in 2007. I worked on it fairly diligently until I finished the majority of the engine. Shortly after, I decided to shelve the project until I felt like I had developed my modeling skills to where I believed I could do this kit justice. Now in 2017, I know I've honed my surface prep and painting skills to the point where I'm looking forward to continuing the work on this kit.
I had contemplated blowing this kit completely apart and starting from scratch. When I looked over what I had completed, I decided that the engine and carriage were more than adequate. The paint that I had completed on other parts needed to be stripped. I always find it interesting looking through work that I had completed in the past.
Once those parts were stripped, it was time to prepare the body for paint. There are only a few minor sink marks and several ejector pin marks that needed to be addressed. Once those have been repaired, it will be time for paint!
More to come!