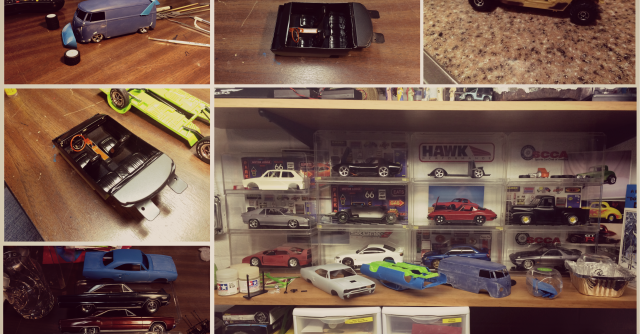 After bombing the paint on my VW bus in December, I really had a hard time moving forward with anything significant. My intent has been to finish every car that is currently in progress and I'm sticking to it. There are a few that have been sitting for years simply because I've been reluctant to move forward with them for one reason or another.
The VW bus is stripped back to bare plastic and ready for another round of body work.
I finished chassis detail on the Golf racecar.
I dug into my '70 Superbird project by starting the interior, chassis and suspension detail. I also started prepping the body by scribing the panel lines and removing mold seams.
I also experimented with attaching MCG photo etch using Micro Clear glue.
While I was painting the wheels for the '70 Superbird, I pulled my '67 GTX and '67 Coronet and properly painted the wheels.
As a quick fun project, I installed a set of wheels from a broken toy onto my son's Hummer kit. I used aluminum tubing to create a mount that would attach to the metal axles. Although the scale is wrong, my 7 year old loved it!