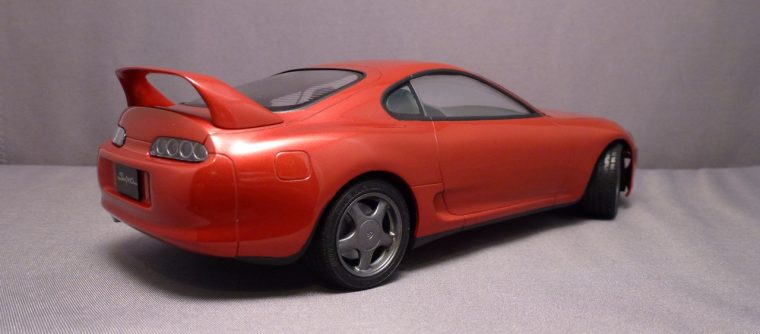 I love 90's Japanese sports cars and the MKIV Supra is no exception. For whatever reason, when I started building this kit, I started with the body. I did a bit of shaving, prepped, primed and painted it and set it aside for a few years. When I dusted off this kit to continue what I had started a few years earlier, I decided to start doing more chassis detailing. Normally, I would spray the underside flat black and be done with it.  I started with the body color and then picked out the details with satin black.  The addition of the suspension and exhaust really help the chassis stand out.
Continuing with the theme of adding more detail, I decided to add some color to the interior.  I painted the door cards and seat inserts body color.  I followed the body color with satin clear to give it a more cloth like appearance.
Under the hood, I picked out as much detail as I could on the engine as well as the engine bay.
The finished product is really sharp!
Completed:  August 2012