Over the years, Lee has had quite the variety of cars. Starting out with a turbo'ed '99 Civic Si, a '98 Nissan 240SX, and later a '04 Subaru WRX.  One thing that comes into play when considering a fast and fun car, as you get older and start a family, is something that is fast but reliable.  What we really need is a car that makes a substantial amount of horsepower but with a factory warranty.  Why not a Camaro?  You may say, "But importnut, isn't a Camaro a straight line boulevard bruiser?"  For the standard issue SS, I would agree. However, the 1LE optioned SS is not a standard issue SS!
Why is the 1LE important?  Here's what GM has to say about it:
The Camaro 1LE package was introduced in 1988, inspired by Camaro's involvement in Pro-Am road racing.

For 2013, the 1LE package is offered only on 1SS and 2SS coupe models, featuring a 6.2L LS3 V-8 rated at 426 horsepower and 420 lb-ft of torque. In addition, 1LE is only available with a six-speed manual transmission.

While the Camaro SS features a Tremec TR6060-M10 for all-around performance, the Camaro 1LE features an exclusive Tremec TR6060-MM6. Paired with a numerically higher 3.91 final-drive ratio, the close-ratio gearing of the transmission is tuned for road-racing performance. As with the ZL1, the 1LE transmission features a standard air-to-liquid cooling system for track use.

The 1LE also features exclusive, monotube rear dampers instead of the twin-tube dampers on SS models. The new hardware allowed engineers to tune the 1LE suspension to focus on optimal body-motion control while preserving much of the ride quality and wheel-motion control of the Camaro SS.

Other changes to optimize the 1LE for track-day use include:

Larger, 27-mm solid front stabilizer bar, and 28-mm solid rear stabilizer bar for improved body control
Higher-capacity rear-axle half shafts to cope with increased levels of traction
Strut tower brace for improved steering feel and response
ZL1-based 20 x 10-inch front and 20 x 11-inch aluminum wheels
285/35ZR20 Goodyear Eagle Supercar G:2 tires front and rear (identical to the front tires for ZL1)
ZL1 wheel bearings, toe links and rear shock mounts for improved on-track performance
ZL1 high-capacity fuel pump and additional fuel pickups for improved fuel delivery during high-cornering

Other changes for the 1LE:

Electric Power steering – Variable ratio and effort
Flat bottom suede microfiber steering wheel
Matte-Black hood
Front and rear splitter
Factory ZL1 short throw shifter
Dual-mode exhaust system
With all that being said, Lee also added the factory Recaro seats and optional dual mode exhaust.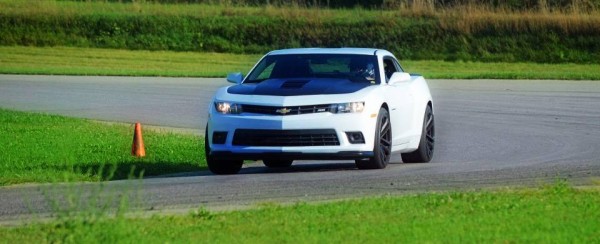 As any car guy would agree, no matter how great a car may be, there's always room for improvement!  With the intention of attending more track day events, he wanted to improve the braking performance and made a few modifications.  Check out the list below for his current modifications and plans for the future.
Current Modifications
Skip Shift Eliminator
Mild to Wild Switch for Duel Mode Exhaust
Speedware Harness Bar and Tank Plates
Sparco 6 Point Harness
CTS-V Front Calipers powder coated to match the original 1LE caliper paint scheme
2 piece CTS-V factory Rotors
Stock CTS-V Ferodo HP1000 Front Brake Pads
Goodridge Brake Lines
Motul RB600 Dot 4 Brake Fluid
SRP Aluminium Pedals
Future Upgrades:
New tires, not sure what I'll be running yet
Stand alone engine oil cooler
Z28 factory rear diff cooler
MORE POWER! in a few years
Check out the pictures below along with a video of Lee tearing it up at Gingerman Raceway!